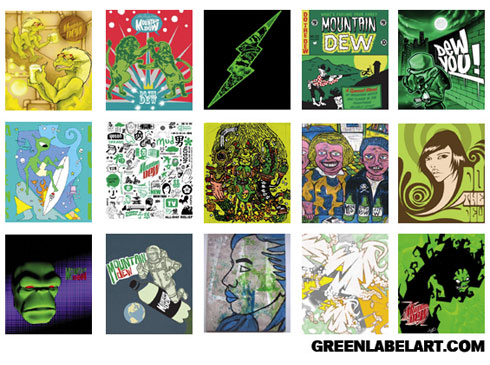 Mountain Dew has launched Green Label Art, a limited-edition series of aluminum bottles featuring designs created by a variety of artists. The Green Label Art series will be released May through October in select markets. This series marks the first time a carbonated soft drink will be packaged in an aluminum bottle in the U.S. The artists were given a plain, 16-ounce aluminum bottle and asked to create their expressions of Mountain Dew. Treating the bottles as a canvas, the artists used a variety of approaches and applications including: tattoo design, cut-and-paste materials, paint, charcoals and computer graphics.
More info after the jump…
The artists participating in Green Label Art are:
TWEEQiM (miQ wilmOtt and THUY3) — vinyl action figures/toys; LA
Troy Denning — tattoo artist; NYC
Peat Wollaeger — stencil artist; St. Louis
Mark Nardelli  (created two designs for 5 Boro) — skateboard graphics designer; NYC
jeffstaple — sneaker and apparel designer; NYC
Methamphibian — sneaker and apparel designer; NYC
Chris Pastras (with P-Rod) — skater/artist; LA
Adam Juresko — collage artist; Richmond, Va.
Dr. Revolt — graffiti artist; NYC
Chuck Anderson — photo illustration artist; Chicago
J.T. Woodruff (for Hawthorne Heights) — lead singer/painter; Dayton, Oh.
A multimedia micro-site, http://www.greenlabelart.com/, will feature artist portfolios, behind-the-scene videos and detailed event highlights. In addition, Green Label Art is hosting a consumer-generated bottle design contest. Consumers will have all the tools necessary to design an individualized bottle through an interactive submission platform on the website. The general public can then vote for their favorite consumer-designed bottle. The winning artist will be awarded $10,000 and be a part of the next wave of Green Label Art designs. Hurry voting ends July 14th!
Categories: entertainment/events
Tags: