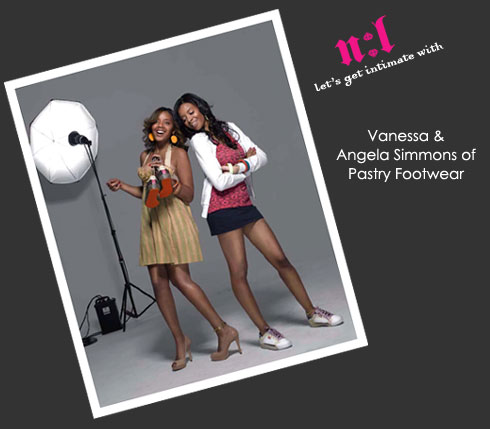 Interview with Vanessa & Angela Simmons @ Pastry Footwear
Interviewed by Wendy L.
Produced by Wendy L.
*I APPRECIATE THE LUV FROM YOUR SITE, BUT PLEASE REFRAIN FROM COPYING THE ENTIRE INTERVIEW/IMAGES TO YOUR SITE. A LINKBACK TO THE INTERVIEW FROM YOUR SITE IS GREATLY APPRECIATED. THANKS.*
Here's another episode of Let's Get Intimate with…this time I am bringing you an exclusive interview with the gurls behind Pastry Footwear by Run Athletics, Vanessa and Angela Simmons, the daughters of Rev Run. Get into the heads of these ladies and get a sneak peak of what's coming out next in the Pastry Footwear Collection – Fab Cookie (short for "Faboulous Cookie", every gurl wants to be FABOULOUS!) line.
Read the interview and peep the pics of the Fab Cookie line that's releasing on August 15th after the jump…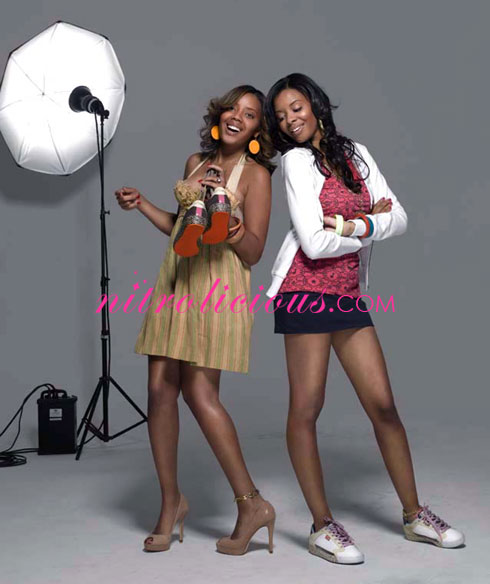 Q: Why the name Pastry?
Both: We originally wanted to use "Cake" but then we realized that the idea was bigger than that. So we named our first collection "Cake" and our company Pastry by Run Athletics.
Q: What were some sources of inspiration and were there any objects/ideas/people you found your work constantly referring to?
Both: Different young ladies and styles were some of the inspirations behind Pastry. Pastries are defined as fun, cool eclectic desserts. That's what our company represents.
Q: How many people are involved in the design and production of the line?
Angela: Vanessa and I are in charge of designing and marketing all products. Vida shoes manufactures the shoes. Run Athletics is our support system.
Q: What's the hardest thing in starting up a new footwear line?
Vanessa: Looking for longevity is hard. We didn't want a fly by night product. We are here for the long run. Another challenge is coming up with themes sometimes.
Q: Who would you most like to style in your shoes?
Angela: Young women of the world. Our shoes are catered to all.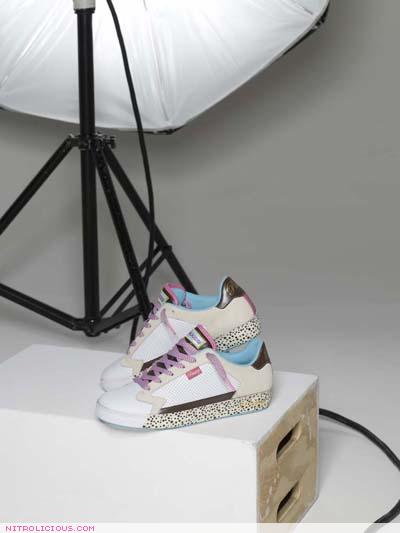 Fab Cookie – White Chocolate Chip (August 15)
Q: What do the females bring to the Street Culture institution that it currently lacks?
Angela: Flava or what we call tasty treats.
Q: Do you style yourself when taping Run's House?
Both: Yes we do. Its reality tv so we do our own thing.
Q: How much do you ask your dad's opinion and input when it comes to your designing and creativity?
Angela: We ask for his opinion all the time. He is a pioneer in the game of hip hop and believe it or not, his groups popularity truly built Adidas. We respect the knowledge our dad brings to us.
Q: Does having a dad who is already successful in a market you are still establishing yourself in have an effect on you or your work? Does it ever get intimidating?
Vanessa: Its never intimidating more like "inspiring".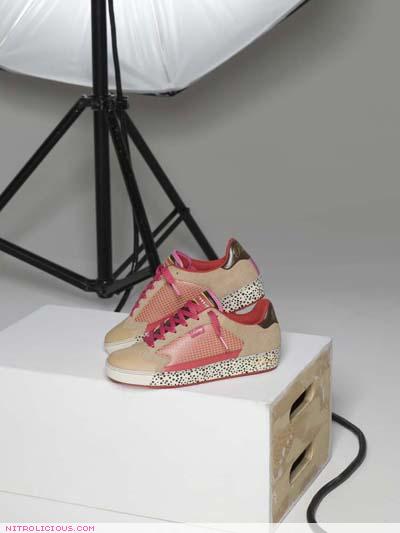 Fab Cookie – Peanut Butter (August 15)
Q: Name a few of your favorite brands, clothing or otherwise.
Angela: Marc Jacobs, Gucci
Vanessa: Juicy Couture, Marc Jacobs
Q: What's the worst fashion faux pas?
Vanessa: People make fashion. Fashion reflects a persons individual style. There are no faux pas!
Q: Who is your favorite designer?
Angela: Myself…I've been going to fashion school and humbly I must be my favorite before others.
Vanessa: Dolce and Gabana
Q: What is your greatest inspiration?
Angela: My family is my greatest inspiration.
Vanessa: I feel I'm my greatest inspiration. Myself and my ideas motivate me a lot.
Q: How would you describe your personal style? Do you guys share clothes?
Both: Yes we share clothes sometimes but our styles vary. You never know what to expect sometimes.

Fab Cookie – Double Chocolate Chip (August 15)
Q: Where do you like to shop?
Angela: I shop everywhere. My fashion sense is wide.
Vanessa: Bloomies, Barneys Co Op, Marciano
Q: What can we expect from Pastry in the near future?
Vanessa: We are looking to expand into multiple categories, some include apparel, jewelry, and retail stores.
Q: Lastly, any words to your fans?
Angela: Thank you for your support! Hit us at www.pastrykicks.com or www.myspace.com/pastrykicks or www.runathletics.com
Vanessa: Sky's the limit and I mean it when I say it. With persistence comes success.
Categories: celebrities features/interviews kicks pastry
Tags: