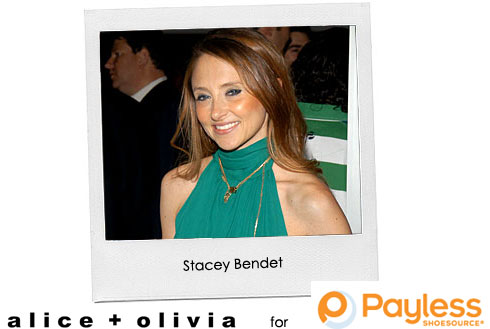 Exciting news, WWD reports that Stacey Bendet of alice + olivia will be joining Abaeté designer Laura Poretzky and Lela Rose to be the third collaboration with Payless
to create a collection that will launch in spring 2008. The collection will be available in 400 Payless stores and on its Web site, as well as in alice + olivia boutiques. The prices are unbeatable, retailing for $20 to $30…she has not yet begun designing yet but foresees a mix of brightly colored platform sandals, flip-flops and ballet slippers to match her ready-to-wear collection. I'm super excited about this collaboration and can't wait to see what she whips up.
The designer said she'll eventually design shoes for her own label, most likely for the fall 2008 season. In celebration of the partnership, Bendet will stage a fashion show on June 30 at alice + olivia's new store in Southampton, N.Y. Other retail locations include Midtown and downtown Manhattan and one in Los Angeles. A Malibu, Calif., outpost is slated to open next year. In addition to shoes, Bendet plans to design sunglasses under her own label and may even join forces with Payless again on a headband collection.
Categories: shoes
Tags: