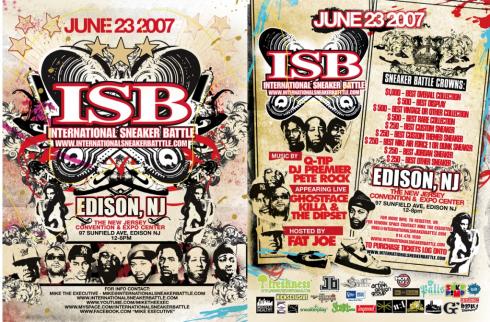 Mike the Executive Presents ISB, hosted by Fat Joe.
The International Sneaker Battle is back! This is an event created for Sneaker Enthusiast and everyone involved in the Culture of Hip-Hop, Graffiti, DJing, Sneakers, Clothing, Art, and Overall Fashion. This year there will be many different sneaker and clothing retailers from the area at the show selling sneakers, clothing and New Era fitted caps. The event will be hosted by Fat Joe, music by Q-TIP, DJ Premier and Pete Rock, also appearing live Ghostface Killah and The Dipset. You don't want to miss this!
If any of you are interested in entering the battle as a customizer, collector, and/or vendor be sure to email Mike@InternationalSneakerBattle.com as soon as possible.
Event Date: Saturday, June 23, 2007 | 12pm – 8pm
The New Jersey Convention & Expo Center
97 Sunfield Ave.
Edison, NJ 08837
> For more info, to register or purchase tickets visit: International Sneaker Battle
Categories: entertainment/events kicks
Tags: