Interview with Lanie @ Hellz Bellz
Interviewed by Tom Bradley
Produced by Wendy L.
*I APPRECIATE THE LUV FROM YOUR SITE, BUT PLEASE REFRAIN FROM COPYING THE ENTIRE INTERVIEW TO YOUR SITE. A LINKBACK TO THE INTERVIEW FROM YOUR SITE IS GREATLY APPRECIATED. THANKS.*
Let's get intimate with my gurl, Lanie from Hellz Bellz. I met Lanie a few months back in Las Vegas during the Magic Show, I was def impressed when she showed me her new line. I wanted everything, it is very detailed and you can tell she put her heart & soul into this. I give her props for all the concepts she came up with and especially the hidden features in her gear, her stuff def brings the toughness out in you. I can't wait till her Hellz Letterman Jacket releases…its hotness! Much respect to her. Read on and get to know her a bit more…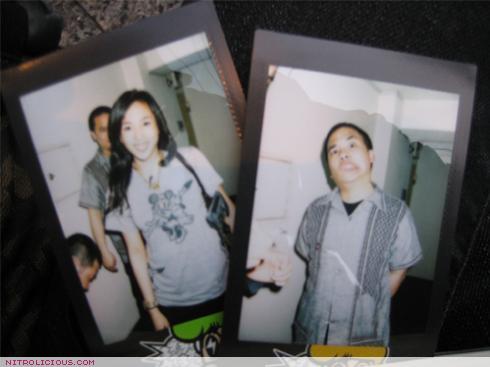 Q: Tell us about yourself.
Lanie: My name is Lanie. I was born in New Orleans, LA and raised in San Diego, CA. I currently reside in the east coast, where I run operations for my brand, Hellz Bellz. Oh and here's some quick facts about me, lol:
I'm addicted to chicken katsu curry & teba saki chicken wings
I don't eat vegetables (I know, I know… so bad)
I can't stand the smell of cilantro
I'm freakishly strong
Q: What are you wearing today? Please include an image and list out all the items.
Jeans: A pair of black Hellz Bellz skinny legs
Tee: My fave tee ever!!! It's an exclusive Hellz Bellz tee made by Hit+Run, during last MAGIC.
Jacket: Hellz Letterman Jacket
Shoes: Sk-8 Hi Vans
Bag: Fendi
Eye glasses: Fendi
Accessories: Vintage jewelry & Casio watch
Q: Who would you most like to style in your clothes?
Lanie: Kate Moss & Kelis.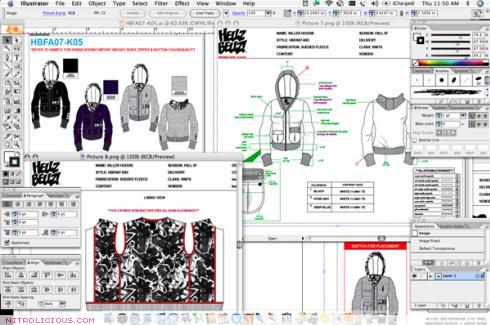 Q: What's the worst fashion faux pas?
Lanie: Skinny jeans on not so skinny girls. It's not a good look when you're wondering if she's wearing skinny jeans or just wearing jeans that are too tight and/or small for her.
Q: What gives your work as a designer the meaning and worth necessary to pursue it as a lifelong endeavor?
Lanie: Passion.
Q: When interning at Alphanumeric was there ever a moment when you thought, "this isn't for me", and what would you have done had you not continued in the world of graphic design?
Lanie: No, it never crossed my mind but it did come up when I interned at an advertising agency. I got into graphic design 'cause I had an in interest in advertising. I just remember sitting at the computer, creating page layouts for a San Diego Convention Center campaign & being soooo unhappy. It totally discouraged me & was convinced that I made the wrong decision in majoring in graphic design. Thank god my feelings changed when I started my internship at A#. I fell in love with designing again & knew right then & there that I was on the right path. If I didn't go the graphic design route, I would have probably been a make-up artist. I did it for a couple years and loved it.
Q: How has the move from Cali to NYC altered (or not) your sense of graphic expression?
Lanie: Well, since I'm from a city that's completely opposite of NYC, everything is still a bit new for me out here & so I find myself really drawn & inspired by all the imperfections, the grittiness, the culture, and history of this city. It brings out an edge to my design, that I didn't have while living in Cali.
Q: What parameters do you use, personally, to determine the caliber of design at work in a streetwear brand?
Lanie: Quality & meaning behind the brand.
Q: What brands do you look to as industry standards, both past and present?
Lanie: Vivienne Westwood, Hysteric Glamour, Perks & Mini
Q: What produces a trend and where do you find forced trends occurring?
Lanie: Trends are usually produced when innovative and progressive looks are taken from the streets and later take on a life of it's own to become the "new look". Often times I see "forced trends" occurring amongst individuals who have no sense of individuality.
Q: What is your take on the web/blog presence obtained by most brands and how does it affect the market in terms of what is successful and what is not?
Lanie: Blogs have a huge role in the sudden emergence of streetwear brands w/in the last couple of years. It's been a great marketing tool for most of the brands & has brought much success to those that both deserve it & don't. At first I was very anti-blogs. It irritated me a lot to see so-called brands on every blog receiving so much hype… for nothing. It's very reminiscent to the music industry & how you can totally hate a song, but if you hear it a million times on the radio & MTV, next thing you know your singing the words in the shower.
The web/blogs affects the market because they get into the minds of the consumer & brand-wash them. They look forward to surfing the web to check out what's hot and what's not. So at the end of the day, the blogs can either make or break a brand.
Q: Do you believe there is an actual sense of community among the street wear brands? Can you detect a common goal (beyond monetary gain) among the brands that unites them?
Lanie: I believe there is definitely a sense of community amongst the street wear brands. Streetwear is our culture. We all come from similar backgrounds and have similar interest, but at the same time we have our own out looks on how we represent our culture and beliefs. Whether it be by the way we dress or what music we listen to. Therefore, at the end of the day, we all have the common goal of expressing ourselves as individuals & pushing individuality rather than conforming to the standards that media forces upon us.
Q: How rewarding has the Hellz Bellz endeavor been for you and what do you hope to do in the future regarding the brand, working in other media, moving into other ventures, etc.?
Lanie: It's been extremely rewarding for me to see Hellz Bellz grow each season. I still get excited when I see a girl rockin' Hellz or when I get emails from girls expressing their love of the line & what it represents. It reassures me that all my hard work and sleepless nights is worth it. As for future projects regarding the brand, I definitely envision the brand taking the next steps outside of fashion and venturing into different creative medias. What it is… I won't say right now. I don't want to jinx anything, so you'll have to just wait and see. For certain though, I will be sure to take things slow to ensure that I am growing the brand at a healthy pace.
For more info: www.hellz-bellz.com
All Images Provided by Lanie
Categories: features/interviews streetwear
Tags: