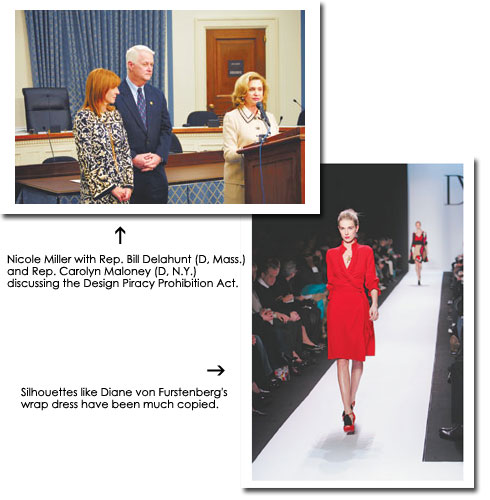 "Knock off a dress design and go to jail." If you think that phrase will scare the counterfeiters, think twice! If they were one bit afraid there wouldn't be knock-offs everywhere and I fear even if this copyright bill is passed designers still won't be protected. Knock-offs are money makers and people love buying it (blame the people, if they didn't buy it they would be out of business). I walk down Canal Street and I see a swarm of women holding black grocery bags and guess what's inside…a FAKE! I even feel embarrassed as I stroll down Canal Street passing all the stores that are selling counterfeits with my authentic Chanel or Louis Vuitton…it almost feels like they look at me and think I just came out of one of the stores with a FAKE! But regardless of what they think, I know mine is authentic and I rather not have one if I have to end up buying a FAKE. This is just me voicing my opinion, not trying to offend anyone that buys a FAKE handbag b/c they either can't afford a real one or it is so popular that they couldn't  purchase a real one. But in reality, anything that has been commerce in the US until the actual promulgation of the law is in the public domain and can be copied, that's harsh but that's the truth. Just think on the bright side, if your designs/ideas are popular then it will be copied. We'll see how far this goes…
She came to town as House lawmakers reintroduced the Design Piracy Prohibition Act that would amend current copyright law to allow companies and designers to register fashion designs for three years of copyright protection; apparel, handbags, footwear, belts and eyeglass frames would be covered. The measure would also establishes penalties for designers or companies knocking off designs. The fine would be $250,000, or $5 for each copied item, whichever was more. While Miller acknowledged the bill was a step in the right direction. She said it stopped short of giving her protection for past designs, such as a blouse she brought back this year from a collection in the Eighties. In addition, she said the legislation should cover designs for three years after the designer stops manufacturing them, not three years from the date they are registered."I have a dress that I started making in 1998 and I'm still running it," said Miller. "I get a lot of longevity out of my dresses and I don't see why, if I'm still manufacturing it, somebody has the right to copy it." via WWD
Read the full story after the jump…
By Kristi Ellis, WWD
WASHINGTON — Knock off a dress design and go to jail.
Maybe not quite, but a new bill designed to put real teeth into copyright protection for fashion designs is now before Congress.
The specter of fashion design piracy sends shivers down the backbone of the fashion industry, but defining "piracy," "knockoffs" and "original" designs under intellectual property laws has proven elusive. Trademark laws protect designer logos and patent law periodically applies to "innovative or ornamental" design elements. Prints and artwork are protected by intellectual property laws, but fashion designs have no protection under copyright laws.
That is why fashion designer Nicole Miller and others came to Capitol Hill on Wednesday to lobby lawmakers, many of whom sit on the House and Senate Judiciary Committees, which have jurisdiction over intellectual property laws, on a bill they hope will change the law.
"Design piracy denigrates the integrity of the style," said Miller. "This year, we have been copied more than we have in past years. With this legislation, people will be deterred from making everything too literal. It's the line-for-line copies that bother me."
Diane von Furstenberg, the new president of the Council of Fashion Designers of America, is involved in the aggressive campaign on Capitol Hill.
"It has gotten to a point at which, unless we get regulation, people will continue to boast about copying," said von Furstenberg, famous for her ubiquitous wrap dress. "Laws are really about intimidation, and we need to have a little law here and a little intimidation. By passing a law, we emphasize the value of designs. It is not an elitist thing. Even Target and Wal-Mart are beginning to use designers in their stores."
Miller, joined by Glenda Bailey, editor in chief of Harper's Bazaar, and Valerie Salembier, senior vice president and publisher of Harper's, pounded the halls of Congress on Wednesday to meet with key senators and House members, including Sens. Chuck Schumer (D., N.Y.), Dick Durbin (D., Ill.), Benjamin Cardin (D., Md.), Kay Bailey Hutchinson (R., Tex.) and Orrin Hatch (R., Utah).
She came to town as House lawmakers reintroduced the Design Piracy Prohibition Act that would amend current copyright law to allow companies and designers to register fashion designs for three years of copyright protection; apparel, handbags, footwear, belts and eyeglass frames would be covered. The measure would also establishes penalties for designers or companies knocking off designs. The fine would be $250,000, or $5 for each copied item, whichever was more.
The legislation, introduced by Reps. Bob Goodlatte (R., Va.) and Bill Delahunt (D., Mass.), would cover only fashion designs created after the law was enacted, according to Alain Coblence, an attorney representing the CFDA, who has worked closely with lawmakers crafting the bill.
"Anything that has been commerce in the United States until the actual promulgation of the law is in the public domain" and can be copied, Coblence said.
While Miller acknowledged the bill was a step in the right direction. She said it stopped short of giving her protection for past designs, such as a blouse she brought back this year from a collection in the Eighties. In addition, she said the legislation should cover designs for three years after the designer stops manufacturing them, not three years from the date they are registered.
"I have a dress that I started making in 1998 and I'm still running it," said Miller. "I get a lot of longevity out of my dresses and I don't see why, if I'm still manufacturing it, somebody has the right to copy it."
But the fashion industry remains somewhat divided over whether the federal government should play a role in fashion.
In everything from interpretations of Coco Chanel's "little black dress" to the Chanel jacket, designers have long made an art and business of copying, reinterpreting and reintroducing designs. While many designers have dodged the "copycat" moniker, others have embraced it.
Oleg Cassini went to his grave with the shadow hanging over him of whether he copied the designs of Hubert de Givenchy to clothe first lady Jacqueline Kennedy in the White House. Cassini always denied the claim and kept letters from Kennedy that backed him up.
David Wolfe, creative director for Doneger Creative Services, said in an interview when the bill was introduced last year, "My worry is that it will make people so frightened that fashion will stop dead in its tracks. I think fashion is like a live reef — all creatures feed off of one another and that stimulates growth and movement."
Allen B. Schwartz, founder and design director of A.B.S. by Allen Schwartz, who has built a portion of his multimillion-dollar business on copying designer gowns gracing the red carpets of the Academy Awards and other Hollywood awards shows, bristles at the concept of copyright protection for designs.
"Designers have for 100 years been going to Europe on boats and bringing inspirations from couture back and putting a spin on things," said Schwartz. "Nothing is original when it comes to silhouettes or a fabric."
Schwartz draws the line at prints, graphics and artwork, which he believes should be protected. As for the law under consideration, Schwartz said, "It's not a good idea. It will create a lot of disruption and litigation, and people will worry more about what they can and can't do as opposed to bringing fashion to the consumer."
The bill could have an impact on retailers such as H&M and Zara, which reinterpret runway designs and trends to sell to the public at lower prices, as well as on retailers' private label businesses.
"It is looking at fashion as an artistic expression and a unique design versus the commonplace belief that apparel is more utilitarian," said Liz Oesterle, government relations council at the National Retail Federation. "The question is, can you protect something that is a commonplace good versus something that is unique and special? We have members on both sides of the issue."
She said retailers that have their own labels or have close relationships with high-end designers might want the protection, while others are concerned the law is too broad and could place restrictions on trends.
Categories: fashion
Tags: