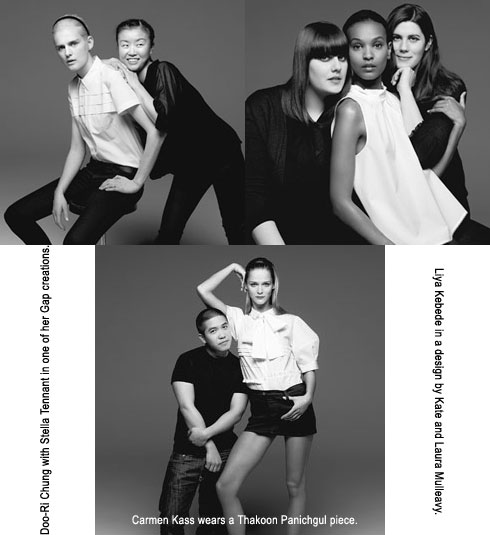 Photography: Inez Van lamsweerde and Vinoodh Matadin
I honestly have to say, Gap is seriously boring…even when they tapped Roland Mouret to design a few dresses it was still not doing it for many of us. They're good for basics and once in awhile you'll find something in there but its not somewhere I'll go shop often. With the competition of UNIQLO releasing collaborations with different designers every month, they don't stand a chance. They finally stepped up and announced that there will be a limited edition collection for women called Gap Design Editions by Doo-Ri Chung, Thakoon Panichgul and Rodarte's Kate & Laura Mulleavy.
The limited edition designs will be sold starting on April 17th in 100 larger Gap stores. This definitely is a good boost for the tired image of Gap. Don't expect to see all different kinds of colors and designs, the project is simple, create white shirts…the products will not have the designers names on the tags but will appear will appear in ads to make it easily identifiable to customers. I still strongly disagree with this, I'd prefer the name of the designer on the tags.
The project is an offshoot of Gap's partnership with the CFDA/Vogue Fashion Fund announced last month to introduce up-and-coming designers to a broader audience by arranging for winners to design limited edition pieces for Gap.

In a statement Tuesday, Vogue editor in chief Anna Wintour said, "Vogue has a long tradition of supporting young talent — in particular, our local talent — to secure a brilliant future for American fashion. And Gap's Design Editions project…will give a boost to the three CFDA/Vogue Fashion Fund winners, and bring their wonderful designs to a much bigger audience."
I luv collaborations and white shirts are great for work…I'm liking the Thakoon design already. I can't wait to see the full collection of whites! via wwd
Categories: fashion
Tags: