Photography: news.com.au
Mayhem broke out on March 12th at the launch of the Stella McCartney for Target collection, more than 400 people queued up outside waiting for the doors to open at 10am. Sneaker queues aren't comparable to what this is, now this is absolute MADNESS! I can't imagine how this would be if it was in NYC instead of Australia haha, I still remember the collaboration between Stella and H&M, though I didn't queue up, when I got there after work there were still TONS of people waiting around for returns or people putting stuff back on the racks…and I thought that was chaos already. People tend to get greedy and just grab everything, then go home and try stuff on and then return them, I basically bought most of the stuff from the H&M collab thru returns.
Contributors to a Vogue.com.au forum on the Stella range have appealed to others to boycott internet auction site eBay should items from the limited, Australia-only range begin appearing.

"I'm definitely boycotting eBay sales for this," wrote one. "It's so unfair that some people practically grabbed everything in sight. It should have been handled better by Target. Only one style item per person. Or maximum 10 items or something like that."
I don't think this will be possible, people have the right to sell, but I def feel you guys on this. I wanted 2 pieces from the collection but couldn't get my hands on them. Sigh!
"One particular type of dress was gone within 10 seconds. A lady was almost pushed into the empty racks and many people were fighting and screaming over the last scarves.

"Some people just took anything, even if the sizes were five times bigger or smaller than themselves. I saw a lady with a trolley full of Stella's clothes. It must be worth over $2000."
LOL, can't we act like civilized young ladies?
"We're going to have a look at the end of the day, find out what's there (and) work out what we can possibly do. We might bring together the (remaining) stock that's in 10 stores and put it in two and then we'll let people know.

"If any particular item has sold-out across the board that will go on the website (designersfortarget.com.au)," she said.
This is good to hear, hopefully someone can help me get the two items I want! As I predicted tons of items are available on eBay now, peep them after the jump. Also for your convenience and of course mine, I've added a banner on my sidebar that links directly to the Stella McCartney for Target goods on eBay…enjoy!
via theage.com.au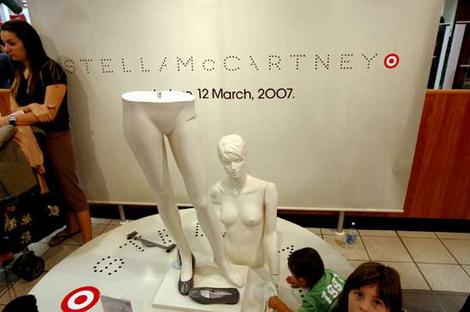 Photography: smh.com.au

Photography: theage.com.au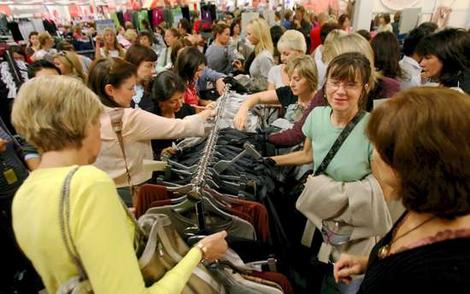 Photography: Andrew de la Rue/theage.com.au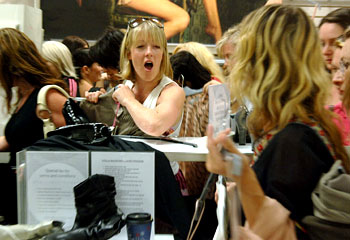 Photography: news.com.au
—
Categories: fashion
Tags: