Get ready for Spring and stock up on your new gear! Check out Triple 5 Soul's new Spring 2007 Collection, The pastel colors are a breath of fresh air, especially the mint green. I'm luvin' the rompers, cropped trench coats and cute peasant blouses, great for Spring. Check out my picks after the jump…
PICKS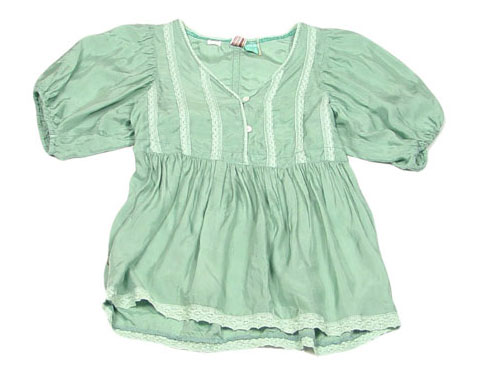 Peasant Blouse

Cropped Sleeve Sweater Hoody

Kickstart Romper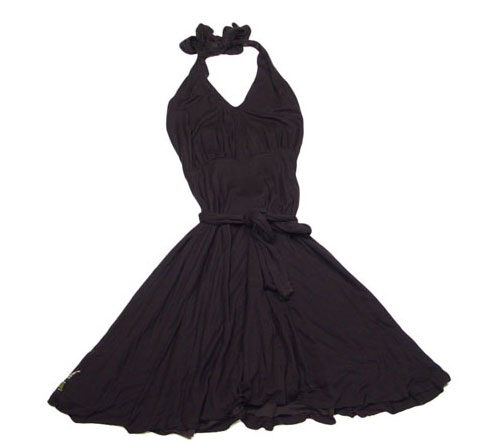 Halter Dress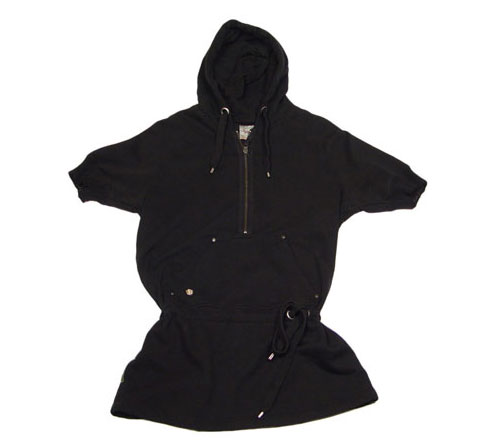 Rock & Soul Hoody Tunic
OVERALL DIRECTION:
The overall thematic direction for Spring 2007 is the escape from the constraints of traditional convention. This direction combines classic rock/cult ³performance² madness with an edgy take on metropolitan street cool, along with excursions into the extreme and sometimes macabre celebratory spirit of Mardi Gras and Coney Island¹s old-school freak show.
KEY ITEMS:
Central silhouettes include a focus on short jackets and shorts in a wide-ranging variety of lengths (from 10.5″ retro surf shorts to 16″ longshorts and 3/4 pants). Knit crewnecks are also increasing in prominence and will be available in a variety of fabrications (including two-ply combos of cotton terry cloth and super soft lightweight cotton sweater knit). Leaner bottoms and more voluminous tops will dominate the ladies silhouettes, with the mens collection also seeing a strong focus on leaner bottoms, as well. Woven shirts will be key, while blazers will be complimented by a strong offering of the abovementioned short jackets in a variety of weights, fabrics and styles. Cotton bottoms will make their comeback as a strong feature of Spring 2007 bottoms, with a huge variety of washed down, soft, vintage-feel pants and shorts offered.
Vintage military costume themes will receive bright pop colors as linings and seam tapings, while the enduring/classic 50¹s biker look will be updated with a vampy edge within the ladies collection and a T5S military twist for guys. Glam-rock styling details will mix and contrast, with an offering of scoop neck/skinny tees, slim fit denim and light weight bombers. Striped blazers, a combination of broad/tonal and fine stripes, overprinted polos and washed down vintage tees round out the collection.
FABRICS:
Featured woven fabrics will include over-dyed cotton plaids, uneven ticking stripes, madras plaids, slub woven cottens, cotton and stretch twills, poplins, linens and yarn-dyes. Knits will feature a focus on slub terrys, slub jerseys and 2-ply jerseys, as well as the usual athletic fabrications (fleece, French terry, French rib, etc).
TREATMENTS:
The Spring 2007 collection will feature a plethora of treatments. Primary treatments universal to the collection will include garment overdying, pigment spraying, heavy enzyme stone washes and allover printing. Other treatment features include broken colors, inside out fabrications, eroded/broken surfaces, scribbled embroideries, printed messages. Overprinting will mix small and large-scale placement prints, and fade-out / bold contrast techniques will be employed all-around. A primitive simplicity and bold color blocking will also serve as driving factors of Spring 07 graphics.
COLORS:
The Spring 2007 woven color palette will encompass a solid base of black, army, khaki and white, with accents of lavender grey, burnt orange and a variety of pale yellows.
A separate Knit sub-palette will feature shades of blues, pinks and yellow, combined with earthy tones and accents of citrus, hot pink, purple, gold and burnt orange.
Categories: fashion
Tags: