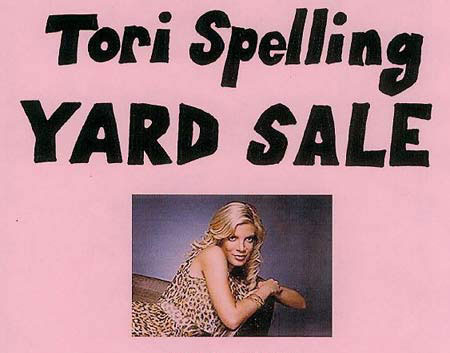 Tori Spelling is following in Kirstie Alley's footsteps – by holding a yard sale. The five-months pregnant actress and her husband, actor Dean McDermott, will be selling wares at their Studio City, CA, home starting Friday at 9am.

"I'm having the sale because we're moving and my taste has changed," Spelling tells PEOPLE. "Plus I'm a notorious pack rat; I keep everything. And I wanted to get organized before the baby arrives, so this seemed the perfect time to clean house. It feels good!"

The couple are looking to buy a bed and breakfast for their upcoming reality show on the Oxygen cable network. They started filming about two weeks ago and looked at properties for the first time this week. "It's been really fun so far!" says Spelling. "But we're going to decorate the B&B modern, so I'm going to sell all the Shabby Chic-style furniture and accessories I've collected over the years."

Apart from furniture, Spelling is also getting rid of Beverly Hills, 90210 memorabilia, vintage and new designer clothes, her antique chintzware collection, signed scripts, artwork, chandeliers, and "jeans that my preggers butt can't fit into anymore," Spelling says jokingly. – PEOPLE
First Tori Spelling sells off her clothes on eBay, now she's having a yard sale. I wonder if she's really that in need of money, or is she really just getting rid of junk before her baby arrives. But watever the case is, she's smart…if I was a celeb I would abuse my fame too haha! She prolly made mad loot back since most of the stuff I would assume were free! Even if you're not buying anything, stop by if you're bored!
Date: Friday, December 8th & Saturday, December 9th | 9am – 5pm 
Tori Spelling
11369 Dona Lisa Drive
Studio City, CA 91604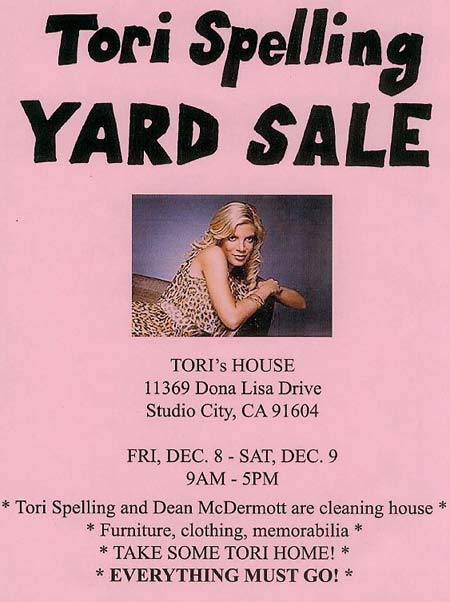 Categories: celebrities shopping
Tags: