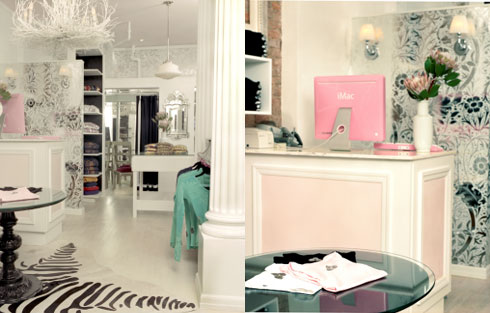 Shvitz
128 Thompson Street
New York, NY 10012
212.982.9465
Hours: 11am – 8pm
Shvitz is the new lifestyle boutique in SoHo with a concept so hot, it's gonna make you sweat! The shop is dedicated to selling high-end comfortwear; sweatsuits, t-shirts, thermals and tanks for women. With an array of leisure-chic brands and a décor scheme that draws on boudoir influences, with a decadent modern flair, Shvitz is a unique retail haven for young women.
Shvitz (the name is a tongue-in-cheek take on the Yiddish word meaning "to sweat") is the first fashion retail concept of Leslie Hall, a former executive at Vibe magazine and co-founder of ICED Media, an entertainment marketing company. A frequent traveler, Hall created Shvitz to reflect her own wardrobe — one that is cosmopolitan, casual, elegant, functional and contemporary. She wanted to open a store that offers relaxed pieces which work as well in the office as on the road. Her vision is expressed in the
way she mixes a fashion-forward edge with a street princess sensibility, specifically edited for the ultimate girl on the go. "Shvitz is about being fabulous while dressing down," says Hall. It's a place where women come to find their favorite brands, and discover fresh innovative designers such as Torn, Rebel Yell, Joystick, Claw $, Primp, Grail, and Hummel."
I practically live in sweats when I'm at home and especially when I'm on a flight, they're so comfy! If you're one that crave LA style, this store is def your pick. You've seen all the young and trendy celebs like Paris Hilton, Nicole Richie, Rachel Bilson, Mischa Barton, etc. rock Primp and Juicy gear, you can cop them at the Shvitz store or online with ease now. I'm going to pay a visit to the store soon, I luv the gurly look of the store!
More info and pics after the jump…
At Shvitz, the clothes are practical while luxurious, and the store itself is a shrine to glam. Mirrored chrome walls, an oversized pink computer, and Roman columns are punctuated by an extravagant white chandelier and set an indulgent, feminine tone. A full calendar of in-store events is planned to create an environment where women come to indulge in girlie glamour. For a personal touch, the store offers free
monogramming on Shvitz branded tanks and thermals. Shvitz will also carry exclusive pieces, created expressly for the store from several designers each season.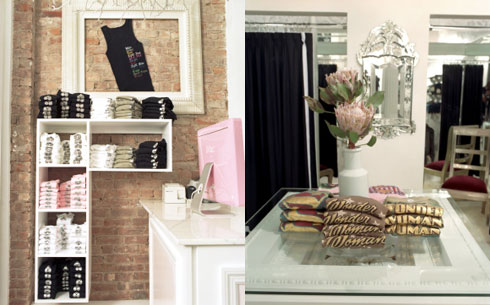 Categories: fashion features/interviews shopping
Tags: