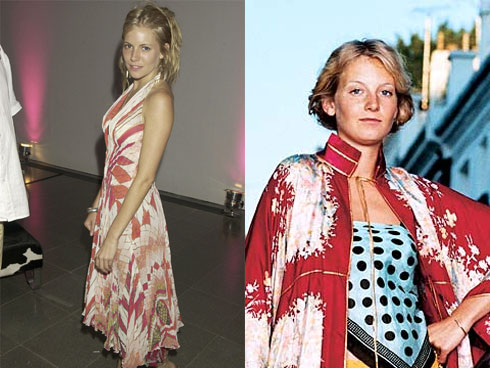 Sienna Miller & Savannah Miller
Sienna Miller has turned from fashion plate to fashion designer. The actress has teamed up with her designer-sister Savannah Miller to create an 80-piece ready-to-wear line, called Twenty8Twelve by s.miller, which will launch for fall 2007. The company plans to make an official announcement today.

"I've always loved fashion, and Savannah got a First in design at Saint Martins," said Sienna, who was with her sister to unveil the line at London's Berkeley Hotel Wednesday. "We hadn't thought to pursue it together, but this just happened organically. And setting up a label with your sister is a lot of fun — there haven't been any fights yet."

The duo's first collection includes denim, knitwear, tailored jackets, dresses and outerwear, and the sisters said their inspirations ran from Dickensian London to Patti Smith and Beat poetry. "We wanted to create that London world that feels inaccessible," said Sienna. In another artsy touch, each season the line will sponsor an artist: For fall, illustrator David Cooper's impression of Sienna wearing the collection will be printed on swing tags, concealed in an envelope on the garments. The duo also plans to hide love poems in the pockets of jeans.
Sienna's style has always been pretty good to me but many says she copies Kate Moss. But come on who doesn't copy the wonder Kate? You get inspiration from others and put your own style and flava into the mix, that's how I feel. Numbers for a logo is dope, Twenty8Twelve, is named after Sienna's date of birth. I bet Savannah is just using Sienna's fame to get some hype! Hopefully, this line will be interesting and not super expensive!
Full story after the jump…
But the actress made clear that it's not just another celebrity fashion line. "I'm not about to become a brand — I won't be releasing an album, perfume and knickers next year," said Sienna. "Because of my job, people are willing to invest in the business, but my sister's an incredible designer, and it's a great opportunity for me to work with her."
The two also decided to keep their names on the logo to a minimum, calling it Twenty8Twelve, after Sienna's date of birth. "I loved the way Martin Margiela uses numbers," said Savannah. "People wanted us to put the line in our names, but we wanted it to be more abstract."
Both sisters said they were equally involved in the design process for the collection, which is backed by Carlos Ortega, the Spanish entrepreneur who owns companies such as Pepe Jeans. Sienna currently appears in the Pepe Jeans campaigns and is contracted with the company through spring 2008. "We studied films, art, magazine tear sheets, and did huge mood boards," said Sienna. "We also went vintage shopping in Paris, to research techniques," added Savannah. "Sienna's always on the Web cam, asking, 'What do you think of this?'"
Although that doesn't mean Sienna is above making some professional mistakes. "Some trousers that were my idea came back as a prototype and were absolutely disgusting. Everyone was worried I'd want them, but I just said, 'Scrap them,'" she said with a laugh. via WWD
Categories: celebrities fashion
Tags: