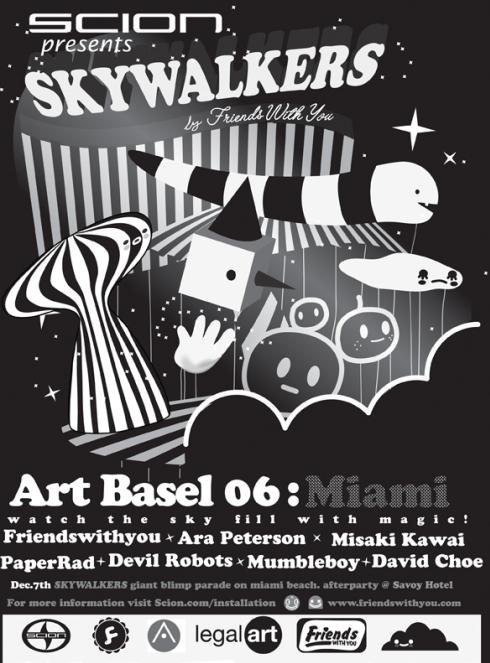 The Savory Hotel on South Beach
455 Ocean Avenue
Miami Beach, FL 33139
Thursday, December 7th @ 2pm
Scion presents Skywalkers by FriendsWithYou, a parade featuring 12 blimps designed by FriendsWithYou, David Choe, Ara Peterson, Misaki Kawai, PaperRad, Devil Robots and Mumble Boy. Embarking at 2pm, the parade route will move along the Miami Beach shoreline beginning at 17th Street and proceeding to The Savoy Hotel.
Thursday, December 7th @ 4pm – 8pm
Scion Installation 3 Final Art Show and Auction in Miami during Art Basel featuring work from Andre from Paris, Ara Peterson, Gary Baseman, Blaine Fontana, Books IIII, Mr. Cartoon, Coro, Crash, Daim, Dalek, Darvin Vida, David Choe, Devil Robots, Dez Einswell, Dr. Revolt, Friends With You, Iosefatu Sua, Joshua Mays, Keen One, Kenton Parker, Kofie, Mad, Matthew Rodriquez, Mike Giant, Misaki Kawai, MumbleBoy, PaperRad, RAMM:ELL:ZEE, Ricky Powell, Ron English, Rostarr, Sage Vaughn, Seak, Sever, Stay High 149, Tindel Michi, and WeAreSupervision. Catered reception viewing with DJs 4pm – 8pm @ The Savoy Hotel.
Friday, December 8, 2006 @ 12pm – 6pm
Return to the Savoy Hotel on Friday to be a part of the official Scion INSTALLATION 3 Art Auction for charity and meet the artists themselves. The art will be on display beginning at 12pm EST with bidding beginning at 3pm EST. In addition to bidding on-site, buyers can bid via absentee bidding, telephone, eBay and can access on-line bidding through an online auction link at www.scion.com/installation.
Categories: entertainment/events
Tags: