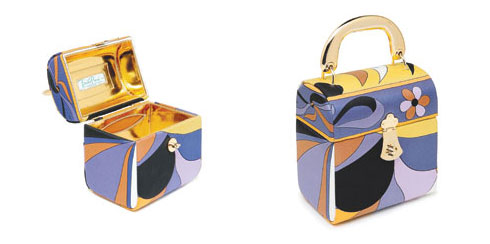 Pucci will celebrate its 60th anniversary next year with the launch in February of a limited-edition collection of four iconic designs from the company's archives that were personal favorites of Emilio Pucci.

"There is such a strong interest for vintage, so we thought, Why shouldn't we remake some of our original pieces ourselves?" said Laudomia Pucci, image director for the brand and daughter of the designer. "There is a great momentum with the new collections designed by Matthew Williamson, but we also wanted to underscore the roots of the brand and to wholly re-create the spirit of those times."

The four pieces, originally designed in the mid-Sixties, will be launched for spring and will be labeled Collectibles: a silk jersey long-sleeved dress, a cotton shantung shirtdress, a silk jersey romper and a silk twill handbag in the shape of a jewelry box. Prices range from $1,700 for the handbag to $2,200 for the Bubbles dress.

Pucci, which is now owned by LVMH Moët Hennessy Louis Vuitton, will produce from 200 to 300 units of each piece, marked with a special "Emilio Pucci — Florence, Italy" tag. In a nod to the Pucci atelier tradition, the labels will be color-coordinated depending on the fabric: green lettering for silk items, blue for cotton items. "We've called back old seamstresses to use the same original techniques my father employed," explained Pucci, noting how each piece is identical to its archive original. Case in point: The prints are placed on each piece so the pattern seamlessly covers the whole garment. – By Luisa Zargani, WWD
I'm not a fan of Pucci but I do luv vintage handbags, we'll just have to wait and see what the limited edition stuff will look like…
Read the rest of the story after the jump…
Pucci said she chose designs that had the most meaning for her father while recapturing the spirit of those years. "The silk jersey dress marked a sense of freedom for women, which was very important at the time, while the cotton of the chemise dress, which my father always had in his collections with different necklines, goes back to my father's war uniforms," said Pucci.
The jersey dress features the Bubbles print in its original beiges, taupes and pinks and comes with an optional belt covered in a Swarovski crystal finish. The shirtdress is made with a blend of cotton and shantung, which adds a smooth sheen, with a print called Fiocchetti (little bows) and smaller flowers in brown, black, periwinkle and gold. The romper, said Pucci, is "a triumph of femininity," a symbol of one of the iconic women of the time, model Verushka.
"Here is the body as a starting point, with the beach glamour, the Mediterranean colors, the long-haired, barefoot (Pucci woman)," she said. The two-in-one item, a shirt and mini shorts combo, features a deep V neck, slightly puffed sleeves and a double-V seaming on the chest — a favorite of the late designer. The Chiave, or key print, is in a lavender, black and gray palette.
The collection will be available at Pucci boutiques and selected specialty stores worldwide. Each garment will have its own different package in a flat box with a matching print lining and a label on the box indicating the reproduction date.
"What better way to mark the anniversary than with a product that can be worn?" asked Pucci, while remarking that it could also become a long-term project. "This is a beautiful homage to the history of the brand and to the vision of its founder, whose designs continue to be modern."
Categories: handbags
Tags: