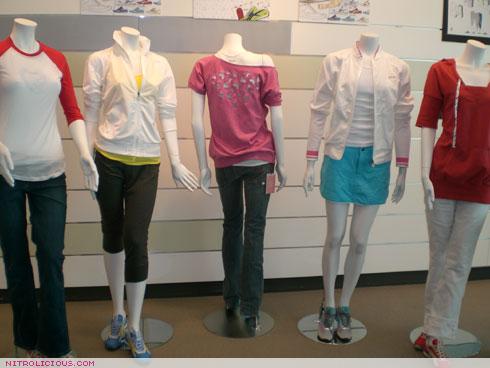 1984…Arguably one of the biggest years of empowerment for female pop stars such as Madonna, Tina Turner and Cyndi Lauper, and coincidentally the year one of Hollywood's most captivating young actresses, Scarlett Johansson, was born.  Fast forward to the present…….Reebok teamed up with Johansson in July, 2006 to create Scarlett "Hearts" Rbk, a fashion-forward, athletic-inspired apparel and footwear signature collection influenced by the decade in which Johansson grew up. 
Combining 80's-inspired athletic silhouettes with modern feminine detailing and bold, unexpected twists, the Scarlett "Hearts" Rbk collection launches at retail globally in March 2007 and will be previewed for the first time in November in New York City, Los Angeles, London and Tokyo. 
"In designing Scarlett 'Hearts' Rbk, our team kept Scarlett's authentic, signature '80's style in mind while also being sure each piece spoke to the sexy confidence she exudes," said Reebok's Vice President of Lifestyle Design, Amy Schaeffer.  "Scarlett is a true blend of vintage and modern and our collection reflects the unique mixture of both."
"It's great to work with Reebok and a female team of designers who will be wearing the line," said Johansson.  "Scarlett 'Hearts' Rbk collection is very feminine and urban with a lot of fun fabrics, bright colors and cute details."
Spring 2007 Scarlett "Hearts" Rbk Apparel Collection
Featuring sexy, sport-inspired silhouettes that fuse glamorous style with the utmost in comfort, Reebok's Scarlett "Hearts" Rbk apparel will include hooded tunics (SRP $100), track jackets (SRP $90), baseball tees (SRP $50), racer tanks (SRP $40), leggings (SRP $80), off-shoulder sweatshirts (SRP $65), and mini skirts (SRP $65).  The apparel features signature embroidered "Hearts" logos, multi-color "Hearts" satin linings, printed "Hearts" satin drawcords, and intricate designs in a fashion-forward palette of colors like citron, vivid blue, bright red, teal, pink and heather grey.
OH I'm feeling the pink heart eyelet top and the red top…so cute! Want to know fun facts on Scarlett…read it after the jump…
DID YOU KNOW???
Scarlett Johansson was born in the middle of the "80's Boom" when Reebok revolutionized the industry with its women's footwear collection.
The Scarlett "Hearts" Rbk logo was created by Scarlett herself! She drew it on a paper napkin while she was dining at a New York City restaurant.
The "Hearts" in the logo is the personal signature Scarlett always uses when signing cards or letters to family and friends.
Beautiful internal satin linings with printed multi-color "Hearts" give each piece in the line fashion flair. Scarlett likes the idea of exercise and aerobics being glamorous: Olivia Newton John and women exercising.
Scarlett first fell in love with Reebok when she saw the brand's "I Am What I Am" global advertising campaign.  Scarlett said "I have always been attracted to the 'I Am What I Am' campaign.  It is great to work with a company like Reebok that is really enthusiastic about celebrating uniqueness and individuality."
Scarlett spent the day shopping with Reebok's design team in NYC at some of her favorite vintage shops throughout the city to help give them inspiration for her "Scarlett Hearts Rbk" collection.
Scarlett worked hand in hand with the Reebok design team on each piece in her collection, infusing her favorite colors, fabrics and styles.
The inspiration for the leggings featured in the Scarlett "Hearts" Rbk collection came directly from Scarlett's closet, as leggings are a staple in her wardrobe.
Scarlett likes to think of it as designing clothes for her friends who are regular girls with lovely curves and feminine figures.
Categories: celebrities fashion
Tags: