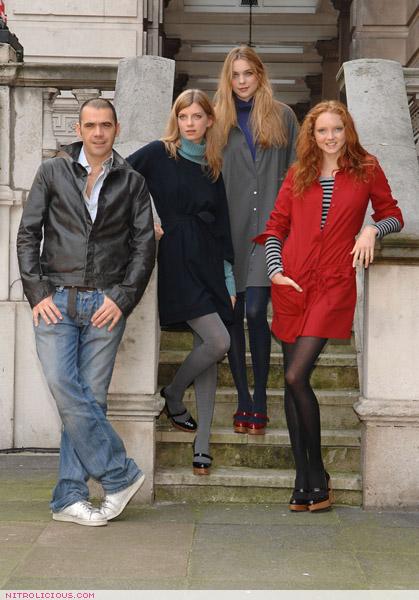 Photo Credit: Wire Image
Back in September 2006:
Gap announced their collaboration with renowned designer Roland Mouret. A collection of ten dresses, priced £45-£78 will be sold in Gap stores in the UK and France only from 7 November.
Three styles from the collection will be sold as part of the Gap (PRODUCT) RED™ collection, with 50% of profits from these styles benefiting The Global Fund to fight AIDS, Tuberculosis and Malaria. (RED) was founded earlier this year by Bono and Bobby Shriver in an effort to generate a sustainable flow of private sector funds towards the fight to eliminate AIDS in Africa.
Stephen Sunnucks, President, Gap Europe comments, "As we localise our business and build a new design team based in London, it was particularly exciting to work with a world class European design talent such as Roland's and to create a collection that is essentially Gap, yet seen through his unique vision."
Roland Mouret comments: "I was interested in the opportunity to make my designs available to a broader audience and was particularly excited about the Gap (PRODUCT) RED™ involvement. This initiative is so important and Gap has given me the opportunity to be able to translate my ideas in a more casual sensibility and at the same time help raise funds that will target the AIDS pandemic in Africa. This is my first project as 19RM." – gap
Now:
The designer's new capsule collection of dresses for Gap will hit shop floors at selected stores in New York by early December, according to Stephen Sunnucks, president of Europe, Gap Inc., International.
"A very small selection will go into six or seven Manhattan stores by late November, early December," Sunnucks said Monday during a press breakfast to unveil the line, which makes its European debut on November 7, and will be available until the end of December.
Sunnucks, a U.K. retail industry veteran who joined Gap in June 2005, said he hoped this collection was the first of "many seasons" with Mouret. He added that, in Europe, Gap had already pumped up its design team to 35 people. – wwd
No actual pictures of the collab yet, but I'm sure they will surface soon. Got a few pics, November 7th is just around the corner, but US residents will have to wait till early December to get a taste of this collection. Let's see how good this is…everyone is following H&M's footstep haha.
More pics and read the latest news after the jump…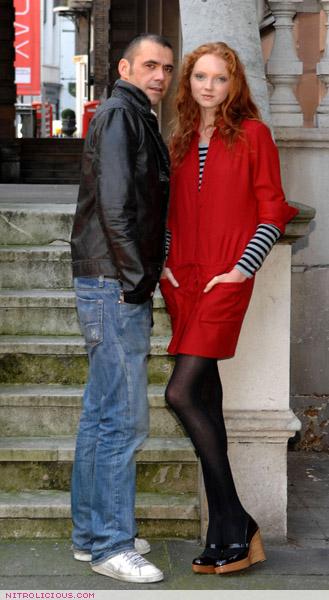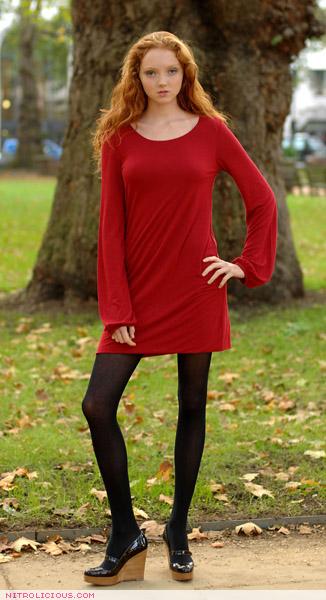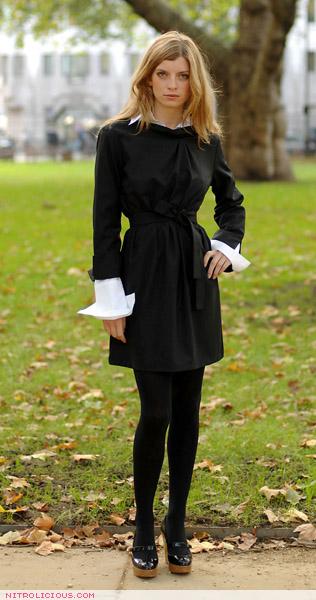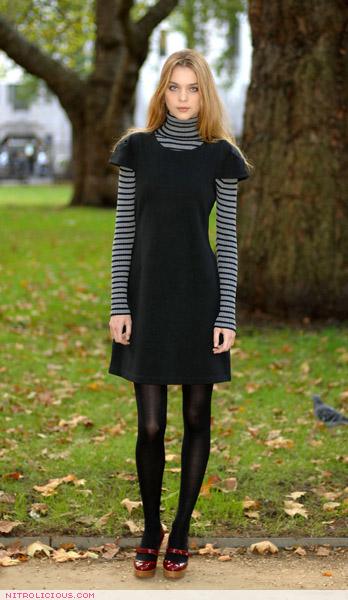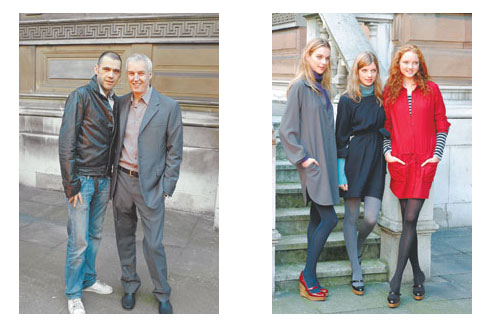 Roland Mouret and Stephen Sunnucks | Three looks from Roland Mouret's dress line for Gap 
Gap Goes Fast-Fashion: Mouret Latest Designer to Dabble in Mass
By Samantha Conti with contributions by Jeanine Poggi, wwd
Mouret for the MassesLondon — Gap is taking a page from the H&M playbook to help spur growth. (SEE, I told you everyone's following H&M haha)
The American retailer has linked with British designer Roland Mouret to launch a capsule collection of dresses, mainly in select stores in Europe but also at a handful of units in New York. The collection will arrive in 160 Gaps in the U.K., Ireland and France on Nov. 7 and should hit the New York stores a few weeks later, according to Stephen Sunnucks, president of Europe, Gap Inc. International.
"A very small selection will go into six or seven Manhattan stores by late November, early December," Sunnucks said Monday during a press breakfast to unveil the line, which will be on sale only until the end of December.
While Gap executives downplayed the comparison, the link with Mouret mirrors the strategy H&M has carried out over the last few seasons by teaming up with designers including Karl Lagerfeld, Stella McCartney and, this season, Viktor & Rolf (for more on that collaboration, see separate story). The H&M collections have created a global public relations blizzard for the Swedish fast-fashion retailer, with shoppers in major cities rushing to snap up the limited-edition designs.
Gap could use such a consumer rush into its stores. For the second quarter ended July 29, Gap Inc. posted a same-store sales decline of 6 percent for its Gap stores in North America, compared with a 4 percent decrease in the same quarter a year ago. Internationally, comps at Gap stores fell by 11 percent in the quarter, versus a gain of 1 percent in the same year-ago period. Sales at Gap stores domestically were essentially flat at $1.2 billion year-over-year, but sales on the international front lost 5.6 percent to $339 million from $359 million a year ago.
Comps for the month of September fell by 3 percent for domestic stores and dropped by 6 percent internationally.
"Gap needs to rejuvenate their customer, whom they have been disappointing for two years," Christine Chen, senior research analyst at Pacific Growth Equities, said Monday. "This is a great thing for them, especially rolling it out in key markets.
"Their problem has not been their merchandise, which I think has improved drastically, it's the stigma associated with the brand," Chen said.
Gap has been attempting to recast its image throughout the summer and back-to-school season with the return of television ads, its Audrey Hepburn campaign for the return of basic pants and most recently, (Product) RED.
The Mouret collection is part of the Gap (RED) line and features 10 dresses, ranging in price from 45 pounds to 78 pounds, or about $85 to $148 at current exchange. Part of the profits will go to The Global Fund to Fight AIDS, tuberculosis and malaria.
Styles include belted shirtdresses; Courréges-inspired numbers and tunics with bib fronts or ruffled V necks in charcoal, silver-gray, navy, black and red.
The collection is seen by analysts as the next step in bringing back old customers and getting new shoppers interested in the store.
"Fashionistas who usually just pass by the Gap may go into the store to purchase Mouret items, and while they are there, see other merchandise they like," Chen said. "H&M got people to line up outside of their stores when they joined with (Karl) Lagerfeld. The Gap needs to generate buzz and get people back into their stores.
"Originally, I would have not associated something like this with the Gap, but I also would have not expected it from H&M, either. Exclusive brands are the way fashion is going," the analyst added.
If the venture is a success in Europe and Manhattan, Chen believes Gap might release the line in other key markets or attempt other exclusive deals with designers.
And Sunnucks, a U.K. retail industry veteran who joined Gap in June 2005, didn't rule that out, saying he hoped the Mouret collection was the first of "many seasons" with the designer. He added that Gap in Europe has already pumped up its design team to 35 people.
"Design is the way forward on the high street," he said.
The collection is Sunnucks' first grand gesture as Gap's European chief. He was brought in to revive Gap's sales and fashion credibility in the extremely competitive European market that is increasingly design-savvy.
"It's been a challenge for Gap in the U.K. That very casual American look was a fashion story, but then fashion moved on, and it's generally viewed as less competitive — and less appealing — than other high-street brands," said Maureen Hinton, retail analyst at Verdict Research, a London consultancy.
Until now, Mouret's capsule collection was destined only for select European stores in the U.K., Ireland and France, so Sunnucks' announcement that it also would be available in New York came as a surprise.
"The Americans saw the collection and liked it, so we'll be doing it as more of a test," added Anita Borzyszkowska, vice president of public relations, Gap Inc. International.
Mouret worked with wool in mostly stretch jersey, flannel, gabardine and crepe and added in details such as his signature folded cap sleeve, practical pockets, ruffles and epaulets.
"It's definitely not a diffusion of what I've been doing, but I have revisited a lot of the details I've done in the past, like the folded sleeve," said a buoyant Mouret.
Mouret said he teamed up with Gap for a variety of reasons.
"They came to me because they felt they weren't strong in the dress category. They wanted a new project that would take Gap dresses to a new level. I have always been a fan of Gap — I like their laid-back attitude, and it was the right mix of people to work with."
Borzyszkowska said the capsule collection was a blend of Mouret's design aesthetic and Gap's practical, casual one.
"We wanted the dresses to be easy and work with the rest of Gap collection. The dresses have pockets, and most of them can be layered over polo necks or collared shirts to go from day to night," she said.
Mouret added, "We had all the girls at Gap here test all the designs out. Our feeling (is), if they love them, everyone is going to."
Mouret said the Gap collection was his first project under the umbrella of 19RM, the joint venture partnership Mouret formed in September with Simon Fuller. The new company, a division of 19 Entertainment Ltd., the media and branded entertainment firm founded by Fuller, will tackle a variety of fashion-related projects.
Shares of Gap on Monday closed at $21.09, up 37 cents, in trading on the New York Stock Exchange. Over 10.5 million shares traded hands, compared with an average volume of 7.2 million, and shares of Gap also hit a new 52-week high in intraday trading at $21.15.
Categories: fashion
Tags: