Photographer: Peter Stigter | Viktor & Rolf with Margareta
Viktor & Rolf's much sought-after men's and women's lines will now be available at prices cost fashionistas can afford. A one time collection designed by the Dutch designer duo and produced by H&M will be available at approximately 250 selected H&M stores in 24 markets worldwide from November 9th. A women's collection of 35 pieces will be offered alongside a men's collection of 25 pieces. In addition, Viktor & Rolf created this season's most wanted accessories.
"It looks simple, but it never is with Viktor & Rolf. There are plenty of hidden details for the wearer's private pleasure. Subtle and ingenious in a graphic and very modern way", says British fashion editor Charlotte Stockdale. The Viktor & Rolf collection, displayed separately at H&M stores, contains a complete wardrobe of tailored pieces, casual pieces and party clothes. The designer duos' unmistakable wit and craftsmanship is expressed with a love theme.
The look is modern couture meet deluxe sportswear: tuxedos for men and women, cocktail dresses and sweatshirts and jeans. Colours are rich forest green, raspberry red, black, nude and grey for ladies, and black, dark green, grey, and off white for men. Materials are pure wool or cotton for tailored pieces, wool or silk for dresses, wool or angora for knitwear and cotton for sweatshirts and jeans.
"Viktor & Rolf for H&M suggest a number of opportunities, for customers as well as for the designers and H&M. This is a clever collaboration. Firstly, H&M presented superstar Karl Lagerfeld, then Stella McCartney, who is just right for their target group and now; the challenge. Viktor & Rolf are cherished within the international fashion crowd but still a little bit unknown outside it. This will put an end to that", says Tim Blanks at Style.com.
Price examples women:
Silk satin dress: €79.90, Jeans: €59.90, Tuxedo blazer: €79.90. Tuxedo trousers: €49.90, Sweatshirt: €39.90, Shoes: €79.90.
Price examples men:
Cotton shirt: €39.90, Jeans: €49.90, Tuxedo: €199, Sweatshirt: €39.90, Brogue shoes: €99.
via H&M
Check out the video about Viktor & Rolf for H&M! 
Here's 2 pics of the long waited collaboration, I'm hoping to see more from this line. Hopefully we can see the full collection real soon, November 9th is just around the corner!!
Two more pictures of the men & women lines after the jump…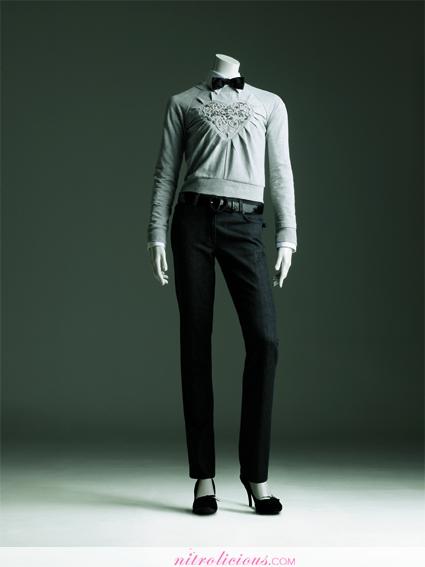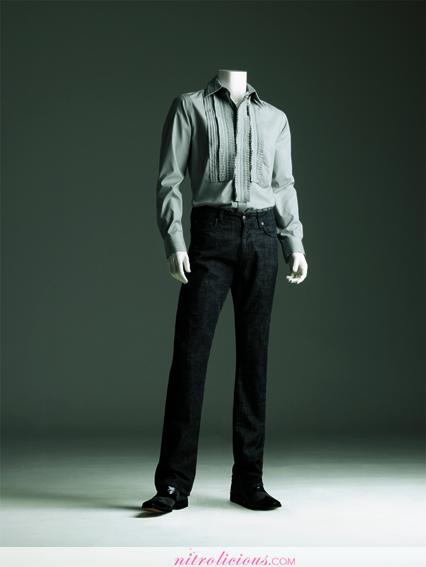 Photographer: Andreas Larsson
Tags: