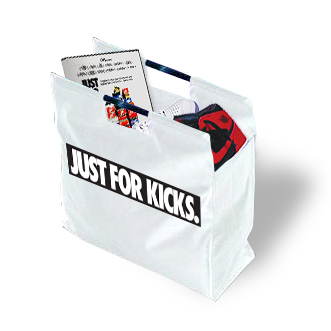 To celebrate the DVD release of Just For Kicks, the creators have created the first Electronic Goodie Bag, fresh from their design lab, that is free for all "Just For Kicks" fans.
Cop the Just for Kicks e-Goodie Bag
Cop the DVD at amazon.com
Along with our sincere love for sneakers, it contains:
J4K E-Goodie Bag
A dope J4K Computer Screen Saver
A 10% off e-coupon to use with any purchase at our web store
Six J4K computer background images (JPG)
The official J4K Poster (pdf) & The official J4K Postcard (pdf)
A J4K animated web banner (gif) // link it to www.JustForKicksMovie.com
Eight J4K exclusive film clips (Quicktime) – instructions and links on how to download them. 4 of the clips are about 3 minutes and the other 4 are 1 1/2 minutes (shorter versions of the same cut). They feature:

Sneaker Culture
Collectors Closets
Stick Up Stories
Run DMC / My Adidas story
As a Special Offer from our friends at Run Athletics, the first 24 people who buy the J4K DVD at our web store using the E-Coupon you'll find in the bag will receive a FREE pair of Run Atlhetics exclusive sneakers!
via Freshness
Tags: