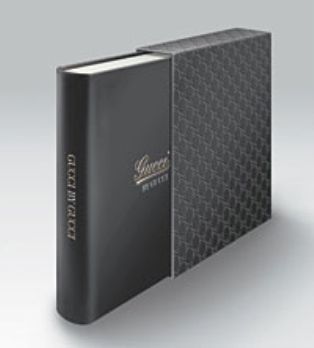 Pre-order the Gucci by Gucci book now! It will be on sale in November. Even if you're not a fan of reading books, you'll still want this for your collection if you're a Gucci Fan. The cover and case of the book looks so hot, FYI it's hardcover! I'll definitely gonna get one for my collection!
Book Description
Gucci. Just the name conjures up images of la dolce vita—Cinecittà stars strolling on the Via Condotti; Jackie O and her signature bag; the Studio 54 chant "Halston, Gucci, Fiorucci"; Tom Ford's sexy, minimalist era, during which stars and socialites lined up to wear his clothes; and now the fresh and joyous vision of Frida Giannini, the line's new creative director.

Gucci by Gucci opens the fabled house's archives for the first time, bringing together—in the form of bags, clothes, accessories, and a dazzling cache of documentary photographs—the history of the Florentine family-owned saddler that has imprinted its name on the fashion consciousness. Both a history of the company and a glorious visual exploration of its far-reaching influence, the book is a treat for the collector and the fan.

About the Author
Sarah Mower is a fashion journalist. She is the author of 20 Years Dolce & Gabbana and Oscar: The Style Inspiration and Life of Oscar de la Renta. A contributing editor to Vogue and Style.com, she lives in London, where she edits her biennial magazine, The Fashion.
Categories: entertainment/events fashion
Tags: