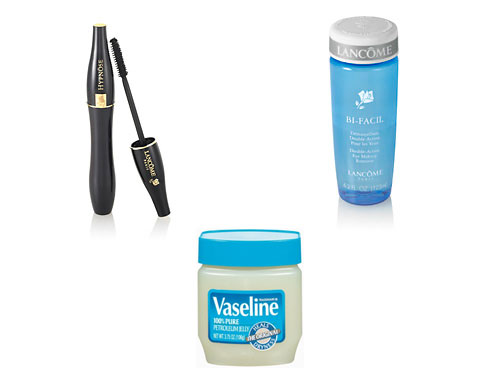 A lot of people, I mean a lot…ask me what kind of power or make-up I use. The only 2 things I use is mascara & lip products (lip gloss, vaseline). I don't use anything else on my face, well lotion that's it! No powder or foundation.
I get really shocked when people ask me that and I ask them why do they would think I wear powder? They would all either say my skin looks really even, matte or smooth. Wow, I never looked at my skin that way, I think I should appreciate it more haha. Mascara is a MUST, I just started wearing it since May 2005…I'm a late bloomer haha!

Must Haves:
Lancome HYPNÔSE Custom Volume Mascara
, Black $22
Dare to go up to 6 times the volume. With each stroke, the patented POWERFULL™ brush intensifies lashes from root to tip. Exclusive, fluid SoftSculpt ™ formula, enriched with Vitamin B5, wraps lashes one luxurious layer at a time without smearing, smudging or clumping. RESULT: Custom volume you control for hypnotic eyes.
Lancome BI-FACIL Double-Action Eye Makeup Remover
$22
Double-phase, fresh-as-water liquid eye makeup remover. Activates when shaken to gently whisk away even waterproof eye makeup, while conditioning and refreshing the skin. Ideal for sensitive skin and contact lens wearers. Leaves eyes feeling cool and relaxed, with no oily residue. Ophthalmologist-Tested For Safety.
Vaseline 100% Pure Petroleum Jelly 4 oz.
$2.79
Moisturizes To Heal Dryness
– I've been using this for yearsssssssssssss
Categories: beauty
Tags: