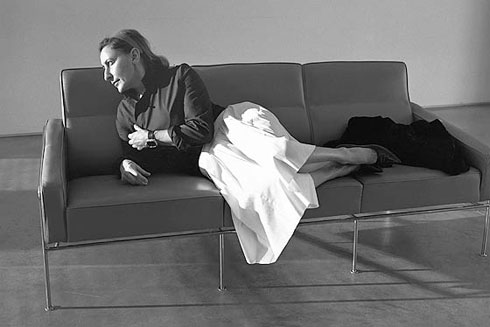 Photo: Brigitte Lacombe
Miuccia Prada gives us the inside scoop of the rumors about collaborating with H&M. Looks like the rumors are all cleared up now, she will not be working with H&M. That sucks, I was actually looking forward to that…

Excerpt from her interview:
What about all these rumors about your working with H&M?
They've asked me. I always said no, not because I don't like the idea, I just don't like the idea of doing bad copies of what I'm doing. And I don't have the time, and maybe even the ability, to do a collection with them. If you want to do a collection that costs less, you have to do it with different materials and different ideas.

Why do other people do it?
I don't know. Because of course they're attracted by the fame you can get. Just because you want to do something new that people talk about. I don't know how much real interest there is in doing fashion that is not expensive but is creative.
via New York Metro
Categories: fashion
Tags: