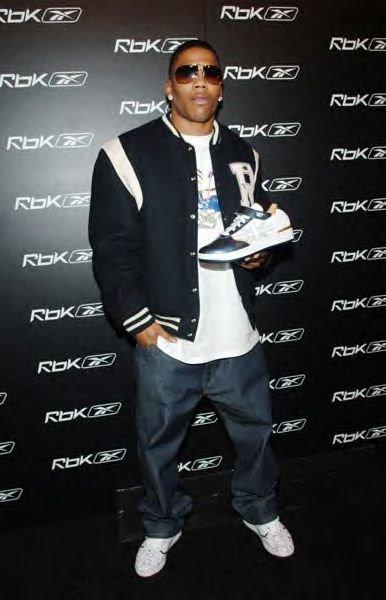 "Seems like you can't be a self-respecting hip-hop artist without your own designer line. Grammy winner Nelly is no exception. His latest foray into fashion? His Derrty One sneakers for Reebok, which sell for about $75 a pair. PEOPLE caught up with the "shoe freak" rapper, 31, in New York City to hear what he had to say about his kicks and a certain special someone."
Interview after the jump…
What kinds of shoes did you wear when you were a kid?
Chuck Taylors at that time were like $15, so those were like the best things that I could get. And then he came out – Michael Jordan – and it was a wrap from there. It was like you're buggin' your mom and she can't afford it. At that time I think the shoes were like 50 bucks and that was unheard of. Now you hope to get a pair for 55 bucks!
So how do you justify the price of your new shoes?
Well, you don't put that burden on people who can't afford it at all. But those who can, for those with a sneaker fetish, for those with parents that cater to their kids that are spoiled, like I do, I think it's a good shoe.
Any inspiration from the past?
I was definitely more of an athlete when I was a kid, but I think it's changed so much because those were the days when athletes set the trends. It's totally different now. The athletes look to the entertainers and what we're wearing, what we have on.
Any thoughts on the NBA's ban of some hip-hop styles?
It's a business. You work for the NBA. The NBA says there's a dress code, there's a dress code. It's just that simple. If I own a business and I come in and say, "Yo, I want everybody to wear this," then that's what you have to do.
As a kid, anything exciting happen on the basketball court in shoes that you loved?
I remember when the pumps first came out, and I remember the first time I put those on, I grabbed the rim! I don't know if it was the shoes…I think I was a sophomore maybe in high school. I was like whoa!
What makes a great sneaker?
The toe. It's all in the toe.

Your line of Apple Bottom jeans has gotten popular. What's happening there?
We believe that the jeans should fit the woman, not the women try to fit the jeans. Everybody's different. Some people have curves, some people don't have curves. It's kinda hard when a young lady is kinda shapely and she sits down and half her crack is hanging out! In Apple Bottoms, we try to negate that.
How are things going with you and Ashanti?
She's cool, she's cool.
She's the spokeswoman for Mudd's Delicious Curves jeans. Did you give her any tips?
Hers was more like an endorsement, but this is my creation, my baby. I started Apple Bottoms out of my own pocket. But I will say that she wore them well!
Interview via People.com
Categories: celebrities kicks
Tags: