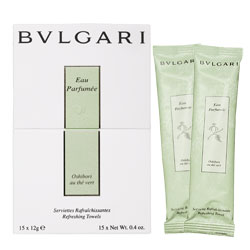 Green Tea Refreshing Towels
Green tea leaves, known for their healing and relaxing effects, are the source of the base note in Bvlgari's first cologne, Eau Parfumee. Launched in 1992, with the delicate and discreet, yet lively and citrusy scent of green tea, this cologne is for both men and women.
Notes:
Italian Bergamot, Tunisian Bitter Orange, Spanish Orange Blossom, Ceylon Cardamom, Jamaican Pepper, Russian Coriander, Bulgarian Rose, Egyptian Jasmine, Green Tea, Smoked Wood.
Style:
A lively, delicate, and discreet fragrance.
Available at Sephora
Extracted from Nylon e-mail newsletter:
Ah, the salty open ocean air–which is great until you start to feel sticky and suspect you might smell like fish. Then it's not so refreshing after all. Tote your perfume of choice with you and it might end up overboard; so instead, whip out Bulgari's new Green Tea Refreshing Towels. The handier versions of Bulgari's green tea cologne, Eau Perfumee, these towels leave a hint of the scent of green tea extracts, Spanish orange blossom, Italian bergamot, Bulgarian Rose and Egyptian jasmine. Green tea is also known for its relaxing effects, so if the sun and surf alone aren't washing away that pre-vacation pressure, these might just get your sea legs moving.
I am feelin' this! You can use this after hittin' the gym too…if you don't have time to shower. Gonna go into Sephora today and smell it. I always like to smell products that have scent before copping it because I don't like my ish too strong! But this should be pretty subtle, hopefully.
Categories: beauty
Tags: