Women that don't have double eyelids can give this a shot, I never tried it b/c I have double eyelids. But I've seen gurlz using stickers, glue and all sorts of things to get the effect, this seems legit. I have no clue where to buy that pink stick, see link below for more info (Japanese only). Let me know if it works, so I can let others know!
via Koji-Honpo
It is common that most Asians get double eyelid surgery, the next big thing is getting a nose job. Check this out…

Rhinoplasty Glasses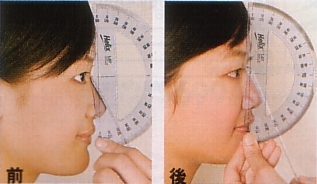 before & after
This was created by a Japanese professor at the University of Sydney.
A pair costs HK$1,680 at JC Shop Hong Kong, where they experimented it on a model. Her nose was apparently raised from 20-()() to 30-()() after seven days of use.
Purchase it at Rakuten or JC Shop HK
Categories: beauty
Tags: